Fully Alive (To order CD to be shipped to you select Buy from 2CO; for downloads select album title in blue)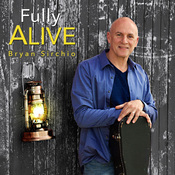 2Checkout.com Inc. (Ohio, USA) is a payment facilitator for goods and services provided by Crosswind Music.
Note: $16.99 includes sales tax, postage, and handling. Please email the Crosswind Music office at info@sirchio.com if you'd like to receive a quantity discount on orders of 5 or more CDs.

My new CD, "Fully Alive!" is finally available!! I'm really thrilled with how it's turned out and can't wait to share this music with all of you!

This is my first solo "singer/songwriter" album since "Justice and Love," and it contains a bunch of tunes that many folks have been waiting for me to record for a long time. The record is diverse and takes the listener on a journey to many different musical landscapes and lyrical moods. I really love it. There are plenty of gentle encouraging songs such as "In God's Hands" (the song I wrote for my mother when she was terminally ill) and "I Am Welcome" in this collection. But there are also some challenging and prophetic songs on the record which I think are likely to generate some interesting conversations and responses. I really hope you'll give this new project a listen. I worked hard on it and it feels so great to be sending some fresh music into the universe. Please, if you enjoy these songs, help me out by sharing the music with friends, blogging and/or posting on Facebook, etc. Folks can't hear it unless they know about it!

Here's a list of the tracks in the order they appear on the album. The songs will be available individually soon both on i-tunes and here on my site.


Ohio Sunset
The Speech That Got Martin Luther King Jr. Killed
The Perfect Church
I Am Welcome
100 People in a Room
Inside The Whale
Jesus Was Not An American
The Diamond
The Nightingale and the Rose
To All Sacred Truth
All Shall Be Well
No Planet, No Problem
Your Happiness
In God's Hands
Fully Alive
The Witness of Rufus Jones