Bryan Sirchio Live! (To buy CD to be shipped to you select Order/Ship Physical CD; for downloads select the album title in blue)
If you'd like to see lyrics for any song on any CD, just click on the CD cover on the right side of this page, and then click on the title of the song you're looking for. Within a few seconds the lyrics for that song will appear.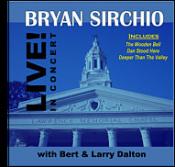 Crosswind
(Description Below)
1991, Crosswind Music. All Rights Reserved.
This is a live recording of a concert I did at the annual meeting of the Wisconsin Conference of the United Church of Christ in 1991. The concert took place in the beautiful chapel at Lawrence University in Appleton, WI on June 18, 1991. I was accompanied by Bert Dalton on piano and his brother Larry Dalton on stand up acoustic bass. They are amazingly talented musicians and their artistry literally transformed a number of my songs. This live recording also features some of the stories I tell when I set up songs in concerts, but each story is on it's own track so you can easily skip them after you've heard them once or twice and get right to the next song.
Recorded, mixed, and mastered by Tom Blain of Ultimate Audio, Evansville, WI.